LES GETS Ski Rental - SKILOVE Hire - Up to 40% discount - Portes du Soleil
SKILOVE - LES GETS - HOME
LES GETS Ski Rental - SKILOVE Ski Hire : book your ski and snowboard equipment online ! You will have the best prices : up to 40% off on your equipment. Les Gets Portes du Soleil.
HOME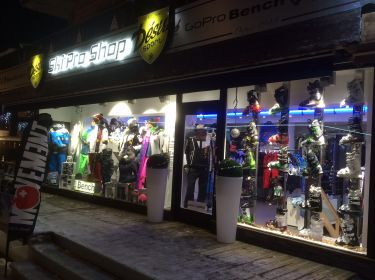 Welcome to SKILOVE - LES GETS
Hire specialist skiing and snowboarding SKILOVE brings you the reassurance of an appropriate and well maintained equipment at the best price / quality ratio.
Monique Berthet, ex-member of the French ski team and three times winner of the instructor challenge and her daughter Romy, instructors at the ESF along with their team of mountain proffessionals will be your best advisors for ski rentals and other purchases in the SKILOVE chalet. Respect of the family tradition, the best equipment, skiing passion and... a touch of glamour too...
SKILOVE - LES GETS has the choice, the professional approach and the experience to guide you in your choice of ski equipment. Add to that, our passion for skiing and you can't go wrong.
By booking online, you can win up to 40% discount on your ski and snowboard hire.
See you soon in LES GETS,
SKILOVE team
THE SHOP
Skilove, your ski and mountain specialist in the heart of the village of Les Gets, created in 1948! A shop on a human scale, a young and professional team, offering the hire and sale of winter ski equipment, a clothing/ready-to-wear shop area (men, women and children) and also a bar/café area. A sporty, familial and friendly atmosphere guaranteed!

THE SPIRIT
What is the Skilove Experience? It's not just a classic ski shop… but a real place to feel good! Experience the "SPORTS CONCEPT STORE": in the morning, go for a coffee before you head out on the slopes, or enjoy a beer on the way back from your day while shopping in our on-trend ready-to-wear shop. Shop for the big fashion & mountain brands at great value prices: Picture, Helly-Hansen, Jott, Poivre-Blanc, and more. Our intention: To make your stay in Les Gets a success, so we will be happy to take the time to share some tips with you!

OUR EQUIPMENT
Find the best equipment at the best price at Skilove Les Gets! Ski, snowboard or cross-country ski hire for all levels. A young and professional team, made up of true mountain sports enthusiasts and ESF [French Ski Shool] ski instructors will be at your disposal to advise you and contribute to the success of your stay in Les Gets.

NEW! BAR CAFÉ AREA
Drinking a good coffee before going on the slopes or enjoying a cold beer or a glass of wine in the après-ski, all around a charcuterie board… this is, for us, an essential part of a good day of skiing! Following the renovation of the shop in 2020, we wanted to create this friendly space for our customers with a small bar/café. The perfect place to have a drink, chat together or watch sporting events on our TV screens! In summer, a quiet, shaded terrace awaits you right in front of Skilove.

APARTMENTS
Skilove offers several apartments for rent as well as a chalet in the centre of Les Gets resort! Three-star furnished apartments for 4 to 11 people (50m2 to 100m2) with all the comforts necessary to enjoy a pleasant stay. Weekly availability in winter and summer. Contact us for more information!
ADVANTAGES SKILOVE

Discounts up to 40%
Book online and get up to 40% discount on your ski rental.

The 7th day is free!
Don't hesitate to come and hire your equipment on Saturday morning or to have an extra day's skiing: the 7th day is FREE!

Families and groups discount
Up to 5% discount on the total amount of your booking.

Ski or snowboard?
With the Multi-Glides option, you change when you want!

Free car park
Parking in front of the store to load your skis without effort.

Helpline
A counselor is available at any time on the phone to guide you and advise you.


Secure Payment
Information? Contact us...
04 50 79 73 37
18 rue de la Forge
74260 LES GETS